Do you have a baker on your Christmas list? Are you looking for something special or different for them? With Christmas just around the corner, you my stumped to find a gift. Look no further, here is a list of great gifts for the baker on your list this year.
Disclosure: Keep in mind that some of the links in this post are affiliate links and if you go through them to make a purchase we may earn a commission. We link these companies and their products because of their quality, not the commission we receive from purchases. 
Baking Appliances
My favorite and most used small appliance is my Kitchenaid Stand Mixer. It is perfect for whipping and creaming butter and mixing hard to mix batters and dough. And when it comes to making bread, it saves time by kneading the dough.
The second most used small appliance is my hand mixer. It is used for icing and when I don't feel like taking out the stand mixer for a smaller recipe.
Ninja Blender. It is used for crushing candy canes and nuts for cookies and fudge. And it makes great smoothies so it does double duty.
Baking Gadgets
Rolling mats. Great for making pies and rolled cookies. Using this means easier clean up when rolling on a floured surface and the measurements for pie crusts are printed on the mat making it easy to get the right sizes.
Russian Piping Tips. These are perfect for anyone who loves to make cupcakes.
Bakeware
Cookie Jars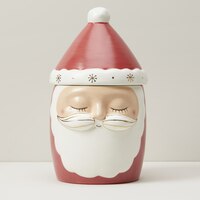 Donut Pans.
Mason Cash Bakeware
Novelty Gifts
Aprons. These can be personalized or just for fun. Every baker needs an apron for those messy baking days.
Mugs. Many bakers drink coffee or tea to either keep them going or to relax while enjoying their baked goods.
Kitchen Timers
The Little Baker
Looking for something for a young baker. Here are some ideas:
Aprons! We all know kids can be messy and when it comes to baking there is no exception. My kids wore more flour than went into the bowl when they were first learning to bake.
Cookie Cutters. Kids love cookies so cookie cutters make a great gift. Kids can cut out shapes they love and decorate the cookies.
Duff Goldman's Super Good Baking For Kids is an excellent books for kids who are learning to bake and for inspiration for those who already know. (And at the time of this posting, 1% of sales from this book at Indigo goes to the Love Of Reading Foundation which is a great charity)
Cookbooks
There are few cookbooks I recommend, especially since you can find almost anything on the internet now. But these cookbooks are my favorites.
The Joy of Cooking. This was my first cookbook and I still refer to it for inspiration. There have been many editions released, even a Christmas Cookie edition. I also recommend this book for house warming gifts to someone just going out on their own.
Anna Olson is queen of baking in Canada. She has shows on the Food Network and cookbooks that are great for bakers
Another great idea is making a basket filled with items for baking. Items like chocolate chips, food coloring, cookie cutters, a rolling pin and a cookbook. You can reference my post that lists the ingredients I keep on hand to bake. They could almost all be placed in a basket.
There are many other gift items out there for bakers. The list is endless. But hopefully this gives you an idea of what to buy or at least where to start.